City of Spooner disclaimer:
Please note that by clicking on these links, you will leave the City of Spooner's website and enter a privately owned website created, operated and maintained by a private business.
By linking to this private business, the City of Spooner is not endorsing its products, services, or privacy or security policies.


Spooner Area Churches
Spooner Baptist Church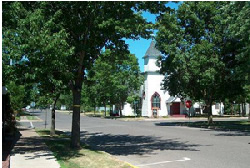 715-635-2277
Beautiful Savior Lutheran Church
715-635-7672
Trinity Lutheran Church
ELCA
715-635-3603
Faith Lutheran Church
Missouri Synod
715-635-8167
First United Pentecostal Church
715-635-8386
St. Francis de Sales Catholic Church
715-635-3105
St. Alban's Episcopal Church
715-635-8475
Wesleyan Church
715-635-2768
United Methodist Church
715-635-3227
Church of The Nazarene
715-635-3496
Assembly Of God
715-635-3546
Cornerstone Church
715-635-9222
The Church of God-Holiness Unto The Lord
715-635-9147
Is your church online? If so, please give us the web address by emailing info@cityofspooner.org. We would like to link to your website.