Links provided are the Wisconsin Election Commission and MyVote Wisconsin.  Visit these websites for the most up-to-date information and forms.
Application for Absentee Ballot  – pdf version with fillable option
Information on absentee voting and photo id. – click on the link for voter information.
Voter Registration Application – pdf version with fillable option
Ward Boundaries Map – View map to see what ward you live in. – UPDATED MAP WILL BE UPLOADED SOON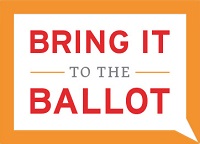 Wisconsin residents will now be required to submit photo identification when voting.
The Wisconsin Department of Transportation provides free state ID cards for voting.  Learn more about getting a free WI ID card on the Wisconsin Department of Transportation website:
http://wisconsindot.gov/Pages/dmv/license-drvs/how-to-apply/id-card.aspx
Acceptable Photo IDs for Voting in Wisconsin. Click on the link to view accepted photo IDs.
You can get more information about voting and your rights to vote by visiting the websites below:
City of Spooner disclaimer: 

Please note that by clicking on these links, you will leave the City of Spooner's website and enter a privately owned website created, operated and maintained by a private business. 

By linking to this private business, the City of Spooner is not endorsing its products, services, or privacy or security policies.
Visit the Wisconsin Elections Commission for more information.

Visit Voter Public Access for more information about exercising your right to vote.
Election Night Information: Tuesday, April 5, 2022
| | |
| --- | --- |
| Mayor | |
| Gary J. Cuskey | |
| Scattering | |
| | |
| Alderperson – Aldermanic District 1 | |
| Richard Coquillette | |
| Scattering | |
| | |
| Alderperson – Aldermanic District 2 | |
| Carol Blizzard Dunn | |
| Daryl P. Gabriel | |
| Scattering | |
| | |
| | |
| | |
| | |
| | |
| | |
| | |
| | |
| Municipal Judge | |
| | |
| Scattering | |
| | |
| Number of provisional ballots: | |